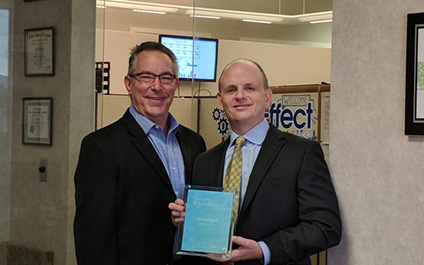 The Metro Chamber celebrated the diversity, creativity and ingenuity of the local business community through the Business Excellence Awards.
We're excited to announce NetEffect has been named a 2017 Business Excellence Awards Honoree in the Trendsetters category. As a trendsetter, we were honored for setting a great example as a small business and paving the way for new technology, community stewardship and corporate responsibility. Our core values of customer service and excellence have clearly allowed us to stand out in the community!
We would like to thank our entire team for making NetEffect the success that it is. Without the contributions of our team members, this award would not have been possible. Our team is fanatically enthusiastic about our mission of delivering work of the highest quality. Every day, we continually improve the solutions we provide to our customers. NetEffect will continue to set the bar when it comes to IT solutions for businesses in Southern Nevada. We are honored to receive this award and to continue paving the way for excellence in the field of IT.